Banquet Room Capacities
| | | | | |
| --- | --- | --- | --- | --- |
| Venue | Min Guests | Max Guests  |   | Deposit     (Fri-Sat) |
| Great Hall | 200 | 364 | | Catering/$1000 |
| Red/White/Blue Room | 210 | 336 | | Catering/$1100 |
| Red Room | 50 | 85 | | Catering/$300 |
| White Room | 50 | 81 | | Catering/$300 |
| Blue Room | 100 | 170 | | Catering/$800 |
| Blue & White | 130 | 251 | | Catering/$800 |
* Meeting rooms for seminars, corporate meetings, etc. are available during the week, and are subject to availability on the weekends.
Room Rental
Minimums: The above rates are based on minimum guarantees (minimum $ menu x minimum number of guests) – client is responsible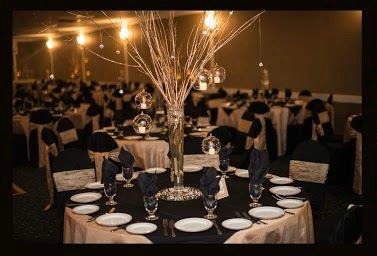 for minimum attendance rates OR the actual attendance, whichever is greater. If final guest numbers will fall below the minimum requirements for your room, this can be remedied by a move to a more suitable venue within the facility ( if available) or a room rental fee will be incurred as penalty for the number of attendees you fall short. There is no room rental fee if you reach the minimum in the blue white or red room. The Great Hall has a standard $500.00 room rental fee for all events.
Closing time for banquet rooms is 12:30 AM. All entertainment and bar service will cease promptly at close. If any personnel or equipment related to your function is not removed from the premises by closing plus 1 hour, overtime billing at a rate of $250/hour (and portions thereof) shall commence. The first hour is billable on the hour, in addition to any overtime charges for staff at their respective hourly rates.
To calculate the exact rental cost please use the following formula:
Cost = Rental + Menu Selection + Additional Food & Beverages x15% Gratuity + Corkage x 5% GST
---
Business Meetings
Companies and individuals who wish to rent a room for business meetings, conferences, training sessions etc. can do so for the price of $200 or more (depending on how many people or size of the room) for 4 hours (half a day), or for $350 or more (depending on how many people or size of the room) for 8 hours (full day) session. Larger rooms for 100 guests up to 360 guests range from $500 and up. Additional costs for services, beverages etc. apply and room rental is reduced if catering is provided. Extra table cloths and linens are available on request. Upon request we can also provide in-house catering with your meetings (breakfast, lunch, dinner, and snacks). Meal prices are dependant on what selection is chosen from our menu. If your event is catered then the rental price will change dependant on food cost. For more information please call our booking and catering department at 403-250-9821 ext.1 to discuss the possibilities for your event.
---
Deposit
Deposits are non-refundable, unless the venue is re-booked for the function date at an equivalent value. In such case, the client agrees to the forfeiture of an administrative charge of 15% on the deposit or $50.00 which ever is greater, to be held until the conclusion of the function and ensuring that the Centre can cover all liabilities incurred on the behalf of the client.
The deposit is to reserve the venue and as a damage deposit for the event in question. It will be returned in full the week after the function as long as no damage is done to the facility.
The deposit required on premium rates is in addition and precede the applicable catering minimums (which are equivalent to rental fees), and is required to reserve the venue.
---
 Linens & Audio Visual
The Croatian-Canadian Cultural Centre has a variety of rentals available to you upon request. When you book a catered event with us: table cloths, plates, cutlery, tables, and chairs are all included in the cost of the catering rental. Please see below for our additional services which can be rented for your event.
Table Skirts – $75.00/ea
Linen Napkins – $0.75/ea
Chair covers with sash (labour included)- $4.75/ea
Additional table cloths ($4.50/ea)
Screen (6 foot) – $40.00
Screen (8 foot) – $50.00
Podium – No Cost
Cordless Microphone – $40/ea
Projector – $150.00
Projector, Screen (6 foot), Mic. package – $200.00
Projector, Screen (8 foot), Mic. package – $210.00
* Further rentals are available through our third party vendor ABCAN Audiovisual Inc. Pricing available upon request